Focus in air and sea: Industry experts discuss the pros and cons of the 'sterile' wheelhouse
Technology has advanced to such a degree that we can often rely more on automated systems than fellow humans to ensure a plane remains in the air. However, certain situations still require a hyper-concentration by the living...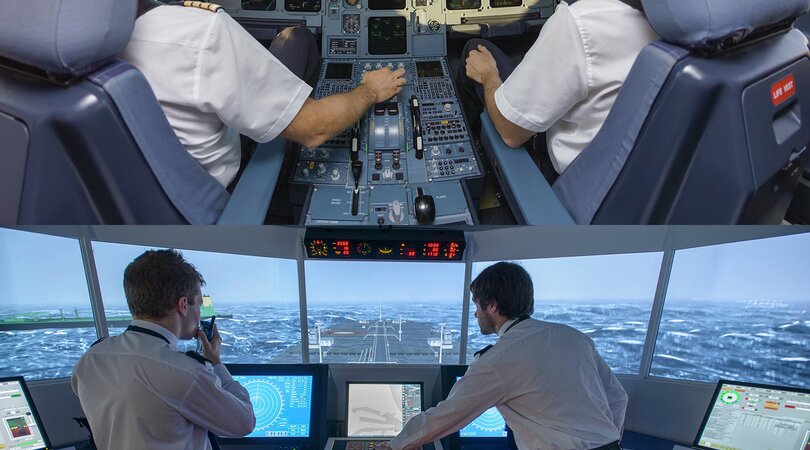 Technology has advanced to such a degree that we can often rely more on automated systems than fellow humans to ensure a plane remains in the air. However, certain situations still require a hyper-concentration by the living beings responsible for operations.
A sterile cockpit is just this. Those on the flight deck must avoid conversations that are not directly related to the immediate task. Casual or distracting talk, for example, while trying to land a plane, could prove catastrophic for everyone involved.
Two experts and accomplished insiders from the shipping and aviation industries, respectively, outlined how this concept of the sterile cockpit is being applied to vessels.
Speaking on the Standard Club's Alongside podcast (listen here), former military and commercial pilot Patrick Browne explained how a "sterile cockpit" does not refer to the cleanliness of the flight deck.
"It's a concept introduced by the FAA in 1981," he said. "There's no non-essential conversations below 10,000 feet as a result of several preventable fatal accidents."
"This is due to a lack of situational awareness which can result from extraneous, non-essential conversation on the flight deck at critical phases of flight."
Browne, who founded Flightdeck Safety Initiatives (FSI), a global provider of custom-designed safety training and educational systems for high-risk industries, explained how this concept isn't just determined by altitude. It's also used during climb and descent, particularly in congested areas, during in-flight refuelling and in the service approach, avoiding bad weather, in-flight emergencies, engine failures and loss of structural integrity.
Kirby Corporation, the largest tank barge operator in the United States and Standard Club member, has been working with Browne to help adapt some of these tactics to maritime to improve behavioural safety.
Jim Guidry, executive vice-president of vessel operations at Kirby, said this tactic could also be applied to maritime. A lack of distractions when docking, navigating narrow bridge transits, congested areas and during watch changes can be considered essential when maintaining safety.
"It's basically now a part of our company policy that the wheelman who is the person in charge of the vessel can declare sterile wheelhouse at any time that he believes it's necessary to allow him to focus better", Guidry said.
They can also request that the wheelman declare a sterile wheelhouse when critical focus is needed, such as in the case of locking, docking and undocking.
Aviation as safety leader
Due to the disparity in disastrous outcomes when comparing aviation to maritime, airlines have a significantly larger incentive to maximise safety procedures.
"Flight crews are constantly seeking ways to prevent accidents, as we're usually the first ones at the scene of the accident, which is obviously undesired," Browne explained.
Therefore, aviation has become a dynamic pioneer in ensuring the well-being of travellers and crew. The meticulous attention given to innovating safety methods has inspired other industries, which may be less vulnerable when a severe accident occurs.
FSI has worked with around 12 or 13 other maritime industries, from cruise lines to tugboats, to help expand their sterile safety measures.
Air vs Sea
There is, however, scepticism towards applying aviation tactics elsewhere due to the differences. Speed disparity is also significant, not just between operating in flight and on the ocean.
"At first, it was hard to see the connection - planes fly very fast, and the evolution of landing or takeoff is very fast," Guidry said.
Guidry added that tanker ships move at about five miles an hour. Docking can take 45 minutes or an hour. The behaviours may initially share little similarity with aviation, but measures, regardless of speed, can tremendously impact safety.
"Most inland tugboats are manned by one person," Guidry said. "The bridge is manned by more people in coastal and ocean navigation, but the same concerns for distractions exist. "
"So you can have six people on the bridge, but if they're having six different thoughts and thinking six different actions, it's actually as dangerous or more dangerous than one person in the wheelhouse."
Sterile wheelhouses also help vessel operators to deal with external factors, such as other ships in the vicinity. Tankers will request assist vessels that are assisting crew on or off the dock, or in a manoeuvre, to go into sterile wheelhouse as well to avoid distractions.
Sterile problems, human solutions
Despite being motivated by safety, when the sterile cockpit was initially introduced, there were some growing pains.
"There was this attitude of 'Shall we tell the pilots?'" Browne said. "In 1989, Air Ontario 1363 and F 28 was operating from driving to Winnipeg in Canada with 69 passengers. The aircraft crashed shortly after takeoff. There were 24 fatalities and 45 survivors. But interestingly enough, before take off, two passengers observed ice on the wings and advised one of the flight attendants. "
"As a result of not fully understanding the sterile cockpit rule… she didn't call the cockpit to tell the pilots because she thought the pilots did not welcome operational information from the flight attendants."
This highlights the importance of education and establishing a culture where the crew feel capable of speaking up when necessary, a balancing act between the sterile wheelhouse and strong communication.
"You could have a brand new green deckhand… and he could be a valuable asset to the captain who needs as much information as he can to make the best decisions possible. So if he's not empowered, or told that it's okay for him to speak up, then you lose that asset," Browne said.
Kirby is responsible for transporting bulk liquid products throughout the Mississippi River system on the Gulf intercostal waterway along all three US coasts. The second-longest river in North America flows heavily from north to south and tends to flood and withdraw.
Guidry explained how this makes it particularly difficult to navigate. According to Browne, the arduous nature of traversing wider water bodies shares similarities with flying long-haul international flights. Domestic flights, conversely, are similar to brown water operations.
The maritime industry is inherently hierarchical, with the captain as the ultimate authority. But, according to Guidry, this relationship is now being shaken up due to the sterile wheelhouse.
"It requires people to speak up, and it requires the Master to listen," he said.
While the nature of the job necessitates top-down assumptions about how ships could operate under absolute authority, a ship master still needs to listen to all of the crew and understand the concerns of everyone aboard. Therefore, training has now shifted towards ensuring that those in charge know that information can come from any source.
Industry-wide, 60 to 80% of all incidents and accidents are caused by human influence. Despite this, the same portion of training dollars is spent on technical training. Vessel operators, owners, safety managers, and regulators must all work in unison and are now being urged to shift towards addressing human errors instead.